The gov't finally admitted that they have a $105.3 million proposal with KTDI and the World Economic Forum for the Known Traveler Digital ID. Take a look at this order paper. It's no longer a conspiracy theory – it's a fact! All under the premise that "It is for your safety, and It will be so convenient"
The Known Traveller Digital Identity, or KTDI, is a public/private collaboration.
(Govts & Big Tech joining forces)
The Known Traveller Digital Identity, or KTDI, is a World Economic Forum initiative that brings together a global consortium of individuals, CORPORATIONS, governments and authorities. This will enable them to track your every move worldwide.
As of June 14, 2022, Transport Canada has to date spent $428,671 on salaries and $220,830 on non-salaries. With
respect to non-salaries, the breakdown of the amount is as follows:
o Travel costs: $38,650
o Informatics costs (IT consultants): $177,351
o Software licenses: $7,902
KTDI would use a blockchain-based distributed ledger to bind together, through an app on a traveler's mobile device, all of the following data:
Biometrics (initially facial images, possibly also fingerprints, etc.)
Government-issued ID credentials (passport number, etc.)
Travel history including logs of border crossings, hotel stays, and possibly also car rentals and/or other events
Purchase logs and possibly bank account information and/or other financial and transaction records
Pre-crime predictive "risk assessment" and profiling scores generated at each "intervention" point before and during each trip or transaction
Each hotel stay, purchase, or other transaction would become like a border crossing permanently stamped in your passport as part of a digital "trip pass" subject to inspection on demand by authorities at subsequent "intervention" points: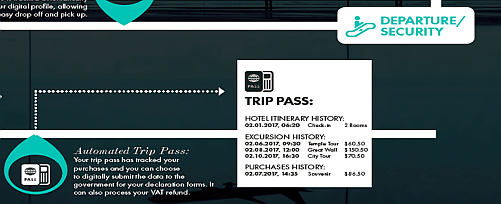 All of this data is intended to be used to discriminate between travelers whose ID-linked pre-crime profiles are scored as "high risk" or "low risk":
WHY WOULD ANYBODY WANT THE GOVERNMENTS OF THE WORLD TO HAVE SUCH DEATILED PERSONAL INFOMATION. THIS IS VERY DANGEROUS.
Here is the website: https://ktdi.org/