The OneAmerica insurance company is reporting a major uptick in non-covid death claims in third quarter of 2021, coinciding with Covid-19 vaccine rollout.
The Indianapolis-based company, which has been around since 1877, says that the death rate is up 40 percent compared to pre-plandemic levels. And these deaths are occurring in working-age people, just to be clear, between the ages of 18 and 64.
"We are seeing, right now, the highest death rates we have seen in the history of this business – not just at OneAmerica," confirmed company CEO Scott Davison about this industry-wide trend.
"Indiana life insurance CEO says deaths are up 40% among people ages 18-64. The data is consistent across every player in that business."

The number of those hospitalized in Indiana are now higher than before the Covid-19 vaccine was introduced a year ago, and is in fact higher than at any point in the past five years, according to Dr. Lindsay Weaver, Indiana's chief medical officer.
Davison said during an online news conference last week. "Just to give you an idea of how bad that is, a three-sigma or a one-in-200-year catastrophe would be 10% increase over pre-pandemic. "So 40% is just unheard of," he added.
OneAmerica is a $100 billion insurance company that has had its headquarters in Indianapolis since 1877. The company has approximately 2,400 employees and sells life insurance, including group life insurance to employers nationwide.
February 23, 2022 Print This Post
German Health Insurance Company Claims Show 31,254 Deaths Following COVID-19 Vaccines While Official Government Stats Report Only 2,255 and "Vaccine Side Effects" Are 10x Higher Than Officially Reported.
A large German health insurance company analyzed data from 10.9 million insured individuals regarding injuries and fatalities following COVID-19 vaccines during the first half of 2021 and into the 3rd quarter which showed significantly higher numbers than what the German government has reported.
This follows news reports out of the U.S. this past weekend where it was revealed that the CDC, FDA, and NIH contained data about significant COVID-19 vaccine injuries and deaths that were not being reported to the public. See:
68,000% Increase in Strokes as FDA and NIH Secretly Study Reports of Neurological Injuries After COVID-19 Vaccines
CDC Withholding Data on COVID-19 Vaccines Because "They might be misinterpreted as the vaccines being ineffective" and "The figures would be misrepresented by anti-vaccine groups"
Andreas Schöfbeck of German health insurance company BKK Provita was interviewed by the German newspaper Welt, and stated (translated from German):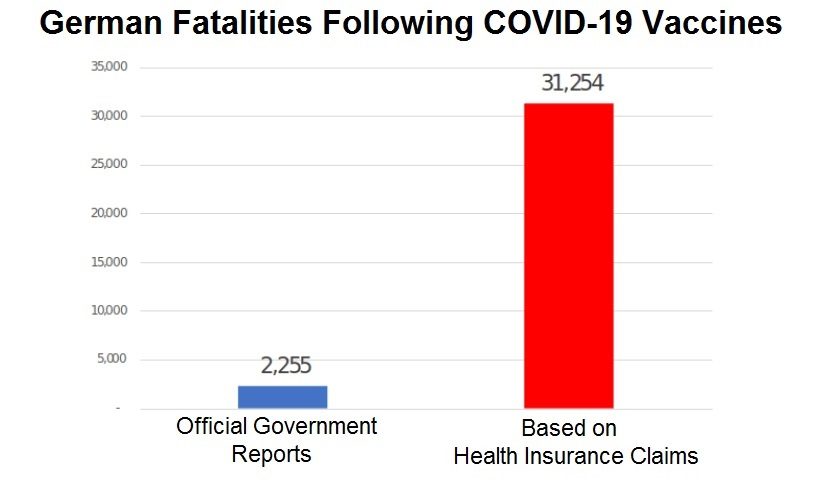 Andreas Schöfbeck of German health insurance company BKK Provita was interviewed by the German newspaper Welt, and stated (translated from German):
"According to our calculations, we consider 400,000 visits to the doctor by our policyholders because of vaccination complications to be realistic to this day. Extrapolated to the total population, this value would be 3 million. The numbers that resulted from our analysis are very far away from the publicly announced numbers. It would be unethical not to talk about it. The new data is an alarming signal." adds Schofbeck.