UPDATED APRIL 4, 2022
Original article – March 28, 2022
Corruption, Money Laundering, Tax Evasion, Funding of Biolabs in Ukraine and much much more.
Immediately before the election the media and big tech censored and blocked all articles, videos and posts about the Hunter Biden laptop calling it FAKE Russian propaganda even though the FBI was conducting an investigation. The content was already out on the internet, including, videos, photos, emails, recordings, etc. featuring Hunter Biden. It was clearly him and the information was real. Hunter had dropped it off for repair in Connecticut and forgot to pick it up.
50 Intelligence Officers Claimed, Without Evidence, That New York Post's Hunter Biden Story Was Russian Disinformation. The mainstream media effectively altered and interfered with the federal election, which is a serious crime.
Previously, The Times dismissed the Biden laptop story as "Russian disinformation" at the height of the 2020 presidential campaign and claimed in a September 2021 piece that The Post's reporting on the laptop was "unsubstantiated." It later scrubbed the word from the article after intense backlash over its inaccurate characterization of The Post's reporting.
According to The Post, Hunter Biden's laptop contained emails, text messages, photos and financial documents between himself, his family and business associates that showed how he used his political influence in his foreign business dealings, specifically in his work as a board member of Burisma Holdings, a Ukrainian energy company.
The New York Post's Twitter account was suspended after it tweeted its story on Biden's laptop in October 2020, which began a weeks-long standoff that culminated in the social media platform backing down and lifting the suspension.
Sen. Rick Scott, R-Fla., said that the cover-up helped Biden win the election. 'Today, the @nytimes confirmed what many of us already knew: the Democrats and their allies in media and Big Tech conspired to cover up the Hunter Biden story to help @joebiden win a presidential election,' he wrote on Twitter.
'Now that the New York Times has even confirmed the Hunter Biden laptop's veracity, can we begin to admit that Joe Biden is, by definition, a compromised politician?' GOP Rep. Lauren Boebert, Colo., questioned.
Would voters have voted for Joe Biden knowing that his son was involved in shady illegal deals with China, Russia and Ukraine and getting paid for access to the president? Is this not elections tampering?
The laptop contained a cache of 103,000 text messages, 154,000 emails, more than 2,000 photos – were verified by top forensics experts. The shocking photos were published by the The Daily Mail here: https://www.dailymail.co.uk/news/article-9445105/What-Hunter-Biden-left-tell-memoir-revealed.html
DailyMail.com can reveal those secrets after contents of his abandoned laptop – including a cache of 103,000 text messages, 154,000 emails, more than 2,000 photos – were verified by top forensics experts
Hunter left his MacBook Pro laptop at a Wilmington, Delaware computer repair shop in April 2019 and never returned for it
In texts from 2019, Hunter begged his father to run for president to salvage Hunter's own reputation
Hunter repeatedly dodged police action against him, despite constantly dealing with drug dealers and prostitutes and having multiple run-ins with the law
The president's son was guarded by a Secret Service agent while on a 2018 drug and prostitute binge in Hollywood, despite not being entitled to protection at the time
Hunter appeared to be obsessed with making porn films with prostitutes, videos and photos on his laptop show
Texts also show Joe Biden was afraid his conversations with Hunter were being hacked even as they discussed his White House bid
Hunter Biden recorded confessing all in regards to corruption and the BIDEN FAMILY partnering with top China officials.
An audio recording of Hunter Biden discussing business involvement with a "spy chief of China" and how his business partner Devon Archer named him and his father as witnesses in a Southern District of New York Criminal case.
Hunter Biden – in an audio file labelled "Most Genius Shit Ever" – appears to be referencing Patrick Ho, who was a former Secretary for Home Affairs in Hong Kong, as a "spy chief of China" while lamenting how his business partner Ye Jianming of CEFC China Energy had disappeared.
Ho was also involved in the CEFC venture, as originally reported by the New York Post and suppressed by the media and Big Tech firms.
The audio breaks the mainstream media's narrative that the hard drive is somehow "fake" or does not implicate Hunter or Joe Biden in criminal investigations and/or business deals with the Chinese Communist Party.
Hunter talks about his family's corruption with Chinese Government Officials
The former veep's son also bemoans longtime business partner Devon Archer naming him and his father Joe as witnesses "in a criminal case" without notifying him.
I get calls from my father to tell me that The New York Times is calling but my old partner Eric, who literally has done me harm for I don't know how long, is the one taking the calls because my father will not stop sending the calls to Eric. I have another New York Times reporter calling about my representation of Patrick Ho – the fucking spy chief of China who started the company that my partner, who is worth $323 billion, founded and is now missing. The richest man in the world is missing who was my partner. He was missing since I last saw him in his $58 million apartment and signed a $4 billion deal to build the fucking largest fucking LNG port in the world. And I am receiving calls from the Southern District of New York from the U.S. Attorney himself. My best friend in business Devon has named me as a witness without telling me in a criminal case and my father without telling me.
The recording adds to the litany of e-mails and stories broken by The National Pulse about the grift of the Biden family, including yesterday's scoop about the VP's son using White House access in exchange for resort villa stays and artwork.
In this video we have Hunter Biden lying about whether the laptop is his or not. Turns out of course it is his and it was not stolen. He dropped it off for repair in Connecticut and forgot to pick it up. The joke writes itself.
See Full article by Daily Mail here: https://www.dailymail.co.uk/news/article-9881213/Unearthed-video-shows-naked-Hunter-Biden-claiming-Russian-drug-dealers-stole-laptop.html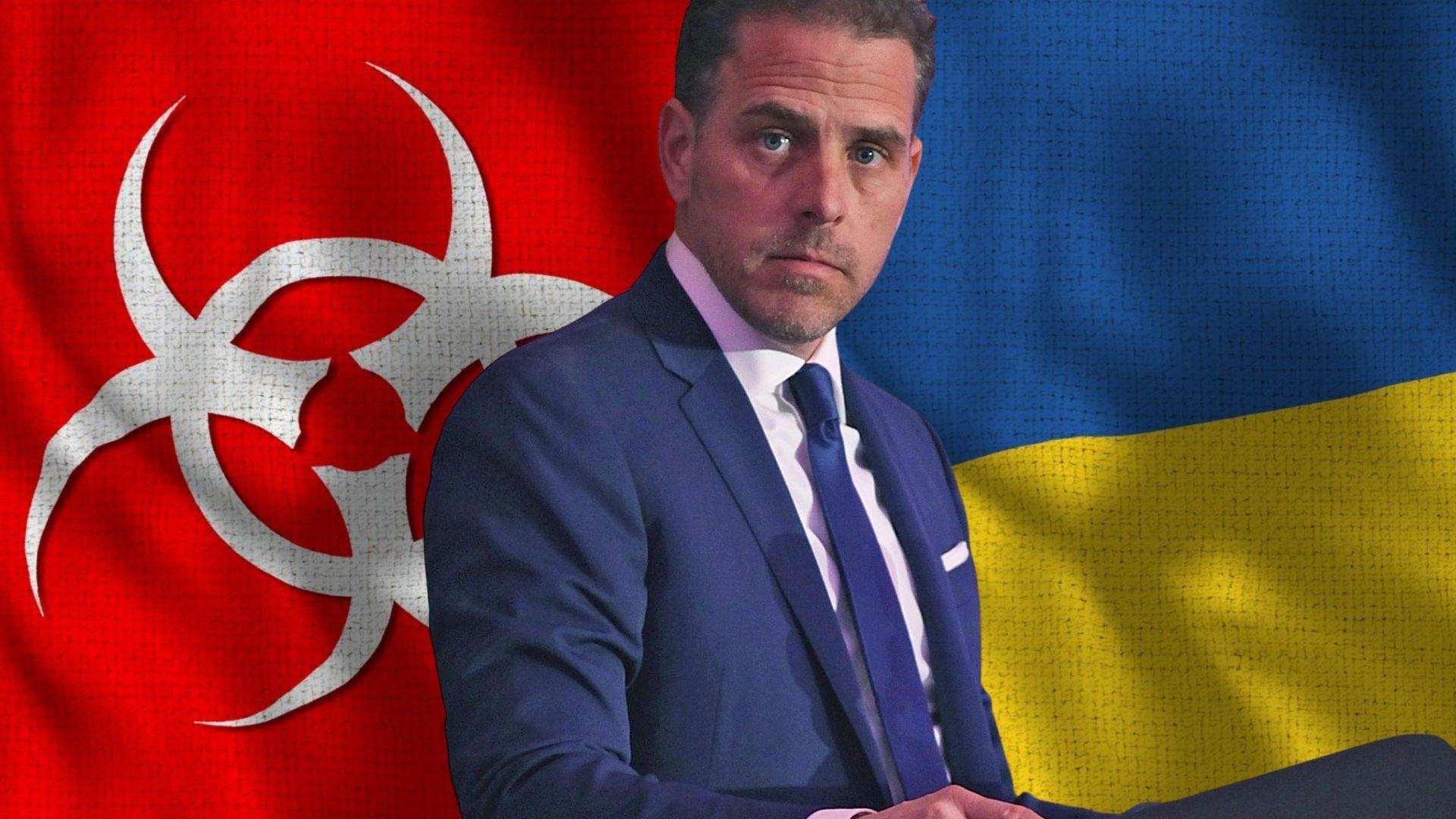 EXCLUSIVE: Hunter Biden Bio Firm Partnered With Ukrainian Researchers 'Isolating Deadly Pathogens' Using Funds From Obama's Defense Department.
The U.S. President's son was instrumental in funding a firm conducting pathogen and anthrax research in Ukrainian biolabs.
Hunter Biden's abandoned laptop has reared its ugly head again, as it reportedly contains emails that appear to back up Russian claims that the US president's son was involved in financing military research into dangerous pathogens at biolabs in Ukraine.
Biden helped arrange millions of dollars in financing for Metabiota, a Pentagon contractor that specialized in researching pandemic-causing pathogens that could be used as bioweapons, the UK's Daily Mail outlined on Friday, citing newly obtained emails and letters from the computer. The president's son and his partners in a firm called Rosemont Seneca also invested $500,000 in the contractor.
At least one of the documents suggested that Metabiota's interest in Ukraine went beyond research and money-making. An executive with the contractor, Mary Guttieri, explained in an April 2014 memo to Hunter Biden of "how we can potentially leverage our team, networks and concepts to assert Ukraine's cultural and economic independence from Russia and continued integration into Western society."
An investment firm directed by President Joe Biden's son Hunter Biden was a leading financial backer of a pandemic tracking and response firm that collaborated on identifying and isolating deadly pathogens in Ukrainian laboratories, receiving funds from the Obama administration's Department of Defense in the process, The National Pulse can exclusively reveal.
Rosemont Seneca Technology Partners (RSTP) – a subsidiary of the Hunter Biden and Christopher Heinz-founded Rosemont Capital – counted both Biden and Heinz as managing directors. Heinz is the stepson of former U.S. Secretary of State and current Climate czar John Kerry.
Amongst the companies listed on archived versions of the RSTP's portfolio is Metabiota – an ostensibly San Francisco-based company that purports to detect, track, and analyze emerging infectious diseases.
Financial reports reveal that RSTP led the company's first round of funding in 2015, which amounted to $30 million. Former managing director and co-founder of RSTP Neil Callahan – a name that also appears many times on Hunter Biden's hard drive – sits on Metabiota's Board of Advisors alongside former Clinton official Rob Walker who discussed, in another unearthed Hunter Biden hard drive e-mail, reaching out to the Obama Department of Defense with regard to Metabiota.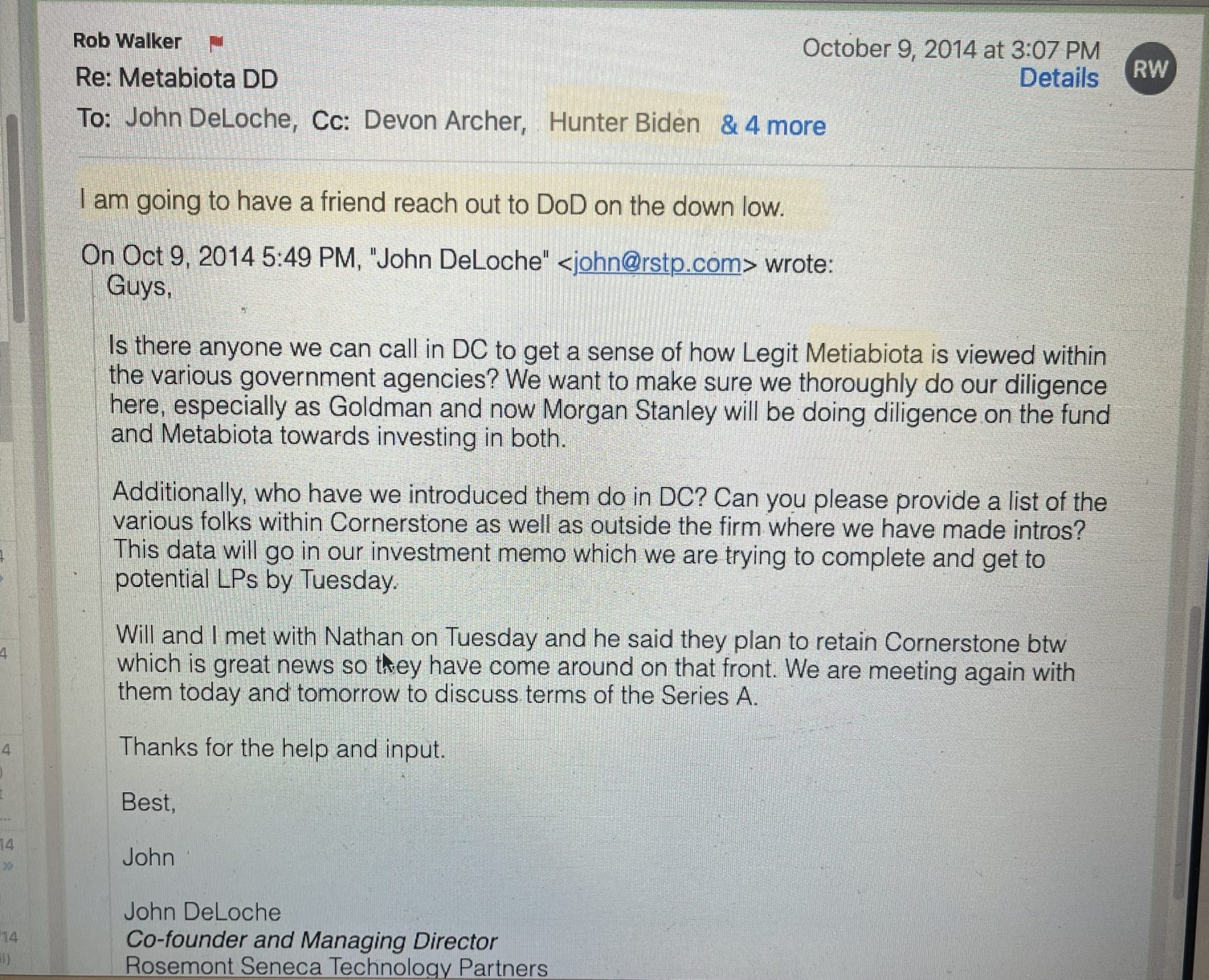 In July 2021, The National Pulse exclusively revealed the connection between Metabiota, Hunter Biden, and the pandemic-linked EcoHealth Alliance which worked closely with Anthony Fauci's National Institute for Allergy and Infectious Disease (NIAID) and the notorious Wuhan laboratory.
Today, we can exclusively reveal an official connection between the Biden-linked pandemic firm and biological laboratories based in Ukraine. In early March we revealed how these labs were handling "especially dangerous pathogens" through programs funded by the U.S. government. The potential for such entities to fall into the hands of invading Russian forces has come under hotly disputed scrutiny in recent weeks.
Why Did Hunter Biden Have DOD Encryption Keys On His Laptop?
The ongoing analysis of the hard drive of Hunter Biden's laptop has revealed that there are multiple Department of Defense "encryption keys" on it. These keys allow access to DOD email accounts and databases. The exact number of these keys is still unknown. There may be dozens.
The keys are known more formally as "root encryption certificates." Some of them appear to have unusually long expiration dates with many lasting twenty years or more. Such keys should not be present on a personal laptop of any kind, and there is no known reason that Hunter Biden would be in possession of them at all.
The keys were discovered only recently by Jack Maxey's technical team working in Switzerland. Shortly after the discovery of the keys Maxey contacted the U.S. Embassy in Switzerland and reported that he had information that might compromise American national security and would like to talk to someone in the Regional Security Office to report what he had learned. His contact information was taken by the person with whom he spoke, but no one has ever called back to obtain the information in his possession.
According to information provided to Maxey, DOD is now aware of the presence of the keys on the laptop's hard drive, has determined that the keys were still active, and has taken steps to cancel them.
An IT technical expert advising Maxey's team has speculated that the keys present on Hunter's laptop might have allowed Hunter to create throwaway email accounts on DOD servers and thereby route personal and business communications through those servers to escape detection. Such an arrangement would be in effect a much more sophisticated version of Hillary Clinton's use of her "homebrew" server to evade monitoring of her communications while she was Secretary of State.
This is a developing story. We will provide updates as they become available. It bears worth emphasizing at this stage, however, that Hunter Biden's laptop has been in the possession of the Federal Bureau of Investigation (FBI) since well before the 2020 election. If the information currently in Maxey's possession from DOD is correct and encryption keys giving access to DOD systems were still active until Maxey and his team discovered their presence and reported them, that would seem to suggest strongly that the FBI has never bothered to investigate what is on the hard drive.
Jack Maxey discusses the contents of the Hunter Biden Laptop… Child Porn, Child Abuse, Crack Cocaine, Incest, Financial Crimes and more.
Start at 2 min 30 secs
Twitter terminated Jacks account after this video was broadcasted.
Jack Maxey Has More Dangerous Revelations From the Hunter Biden Laptop.